OUR STORY
The Experience
ESQUELETO features a thoughtfully edited selection of handcrafted fine jewelry, artwork, and objects. With a commitment to ethical sourcing, sustainable practices, and supporting creative and talented independent designers and makers, ESQUELETO is a destination for the most unique fine jewelry, presented in our casual, light-filled boutiques.
Our expert team is here to guide you through every purchase, whether it's selecting a special gift, or a new addition to your personal collection, or a beautiful artwork to accent your home. We specialize in alternative engagement rings and wedding bands for couples seeking sustainable, out-of-the-box rings; we are so honored to be a part of your commitment and are here to support and advise every step of the way.
Every experience I've had here has been absolutely stellar…The selection is always gorgeous, the sourcing is ethical, but what really makes this store a treat are the salespeople. Highly recommend. -  Jackie H.
 I mean... words cannot describe how much I love this ring. It is my wedding band, and it is so me. I also had the best experience at Esqueleto. The women working were so helpful, kind, funny, and sat with me through my decision making. It felt good all around. So happy. - Erma K.
 The only store that I will buy my drip. The sparkliest diamonds are only outshined by the amazing women who own, operate and run Esqueleto. Hands down a class act. - Katie H.
More than jewelry sparkles at Esqueleto. Inside a tiny sun-drenched showroom, Wolf has assembled an eye-catching array of distinctive handcrafted items including custom jewelry, art, decorative objects and colorful vintage kilims.
OUR STORY
Lauren Wolf first opened the doors to the Oakland shop in 2011 as her personal studio, with a small space up front to exhibit her own jewelry and the jewelry and artwork created by a few of her close friends. Naming this new gallery ESQUELETO, which translates to "skeleton" - a nod both to her time spent learning metalsmithing in Mexico and to her penchant for casting bones, teeth and shells for use in her early designs - Lauren soon realized that there was a great demand for handcrafted, creative, ethically sourced fine jewelry.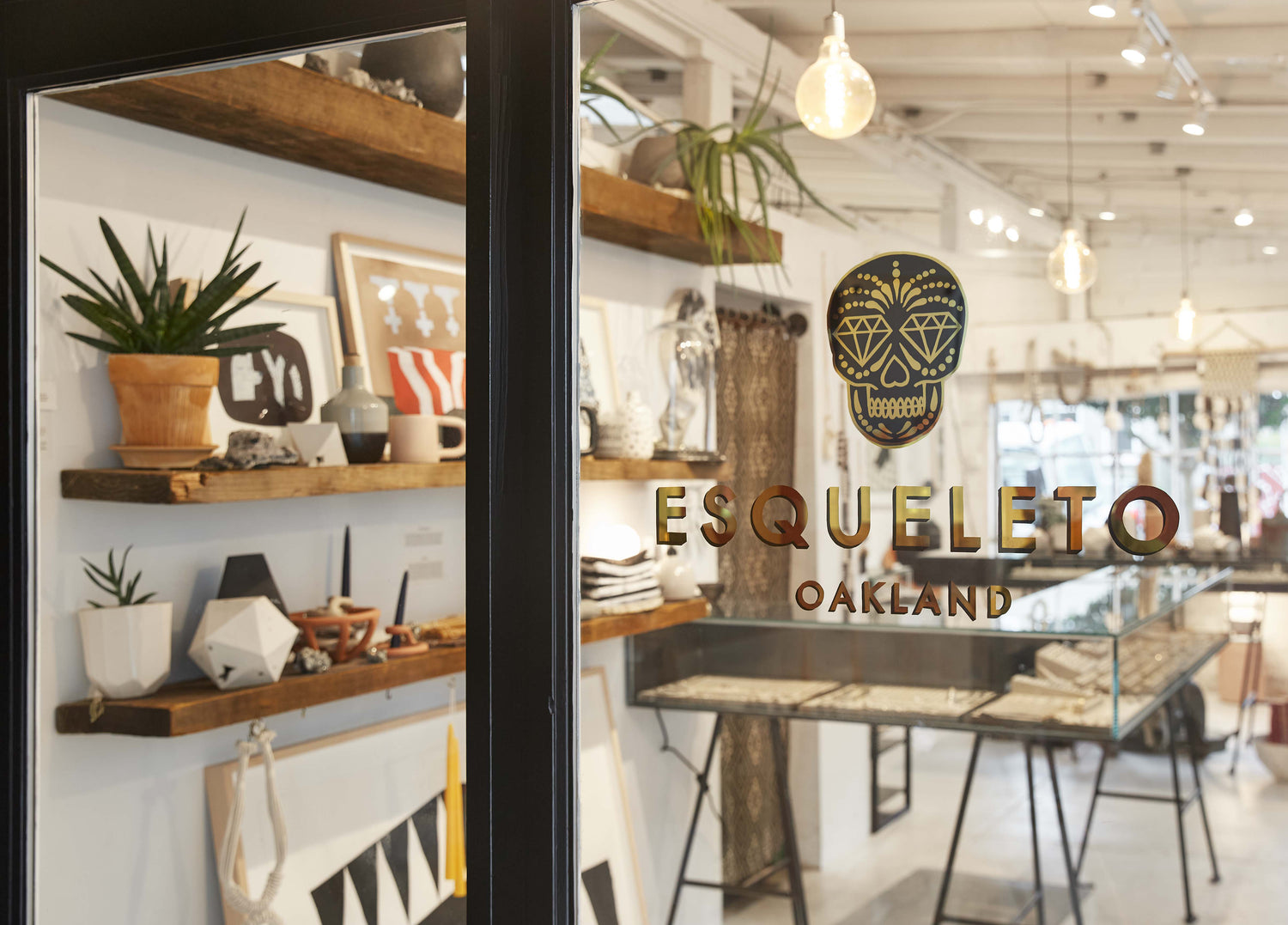 "This highly curated yet laid-back art gallery and shop is where the desert meets the sea, and independent artists are celebrated for their unique individuality. Here, in the sun-soaked showroom, techniques and materials vary, but one common theme marries every object: They're all handcrafted."
Since those early days in Temescal Alley, the company has expanded across the state and then the country, opening its second retail location in 2015 in Los Angeles, and launching our comprehensive e-commerce website later that same year. Since then, we've added additional brick-and-mortar locations in New York City and San Diego and listed many more of our unique items on the shopesqueleto.com website so that you can shop from anywhere!
Who We Are
Our small-but-mighty team is made up of passionate jewelry and design lovers, led by owner and jewelry designer Lauren Wolf. Lauren discovered her love for casting found objects while learning the art of metalsmithing in the mountains of Mexico, and then launched her eponymous line nearly 20 years ago. Today, Lauren Wolf Jewelry, our in-house line, is best known for creating unusual engagement rings using ethically-mined, rare, naturally colored diamonds.
"What I love about jewelry is the tangibility of it, the extension of personal expression that extends to the wearer. And the three-dimensionality of it, the tactile part of jewelry. It's a miniature art form—you can take it wherever you want."
In addition, the jewelry designers and artisans that we showcase in our shops are more than just business contacts: they are our colleagues, our neighbors, and our friends. When you purchase a piece made by one of our artists, you are purchasing a piece made with love and care, and supporting an entire network of independent artists and local suppliers. We are proud to showcase a diverse selection of unique future heirlooms that we truly believe in.
ETHOS
Investing in fine jewelry can be overwhelming, as the industry has roots in human rights atrocities and environmental degradation. Diamonds in particular have a long, complicated, and violent history. We acknowledge this, and we are committed to driving change within the industry by working with artists and suppliers who share our commitment to social and environmental sustainability. Sustainability is more than mere policy or procedure – it is our consistent commitment to better ourselves, empower each other, provide value for our clientele, and protect the Earth in the process. Read more about our company ethos here.